07.05.2021
« Sell in May and Go away » ? Statistics say : « Not really »
Everybody has heard at least once the financial adage « Sell in May and go away », suggesting that stock markets have historically corrected in May.
As we start the month of May with the S&P 500 not too far from its all-time high and after more than 6 months of rally, the adage is on everyone's lips. So we decided to check if May represents any kind of seasonality for a market correction.
Of course, the answer depends of the windows and the number of observations you are looking at. If we consider the S&P 500 since 2010, May has on average returned -0.7% including the awful -8.2% in 2010 (the 25th worst monthly performance of the S&P since 1942). But why look specifically at an 11 years window? Especially when the last 10 year average S&P 500 returns in May (May 2010 is not part of the observation) stands at +0.04%.
Because, with statistics, we can prove anything depending on where you are sitting…
More concretely, we cannot find any seasonality for the month of May.
Looking at the average S&P 500 return in May since 1942 and on several fixed windows, the only conclusion we can draw is that market is going up in the long-run, even in May.
Statistics analysis since 1942 shows us that in terms of frequency, a positive return in May is even more likely to occur. However, there are drawdowns in financial market history and we tried to analyze seasonality and amplitude if any.
From 1942 to April 2021, the S&P 500 fell on a monthly basis 376 times over 953 months of observations. The distribution and the cumulative returns per month come as follows: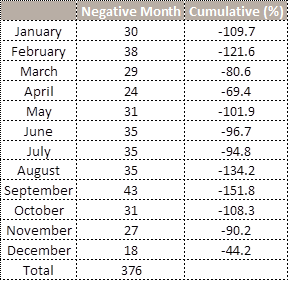 Statistics and distribution tend to confirm that the « Sell in May and Go away » is not truly confirmed over time. However, Investors could find something about :
« Sell in September and …».
Back